At the end of this month, I'll be going on my third cruise. Obviously, this by no means makes me an expert on what to pack for them. But, there are a few things I wish people would have told me before I went on my first one.
1) If it's a regular cruise, you will most likely need "dressier" clothes for the dinners. In addition, many cruises have "formal nights," where you get all kinds of decked out. You can skip these, of course, but that wasn't an option for me as I would miss the amazing food that comes with dinners. I packed two cocktail dresses and a pair of black pants for my first cruise. I would stick to black pants and nice tops in the future.
2) Bring sweaters and/or cardigans if you get cold easily (like me). All of the indoor parts of the boat are majorly air conditioned, and I was uncomfortable when I forgot my sweater.
3) Bring the following shoes: one pair that are easy to slip on and off for trekking around the boat, one pair of sneakers for if and when you go on shore excursions, one to two pairs of dressier shoes for dinners. Honestly, you don't need much more than that.
4) Bring a bathing suit. This one seems obvious, but you'd be surprised at how many people forget. And on-board shopping options are extremely limited and pricey.
5) Bring "deck clothes." Pool cover-ups, sarongs, t-shirts, yoga pants, whatever you feel comfy in, bring lots of. Hopefully, you'll be spending a good amount of time lounging around the boat and comfort is your number one priority.
6) Bring outfits for shore excursions. My pick is always jeans or a skirt, with a tank top or t-shirt and sweater. Again, the sweater because you never know where you might end up that is chilly.
7) Bring lots of undies. I changed my clothes MUCH more often than usual while on our cruise. It was extremely handy to have a few extra pairs of undies around. There are few things worse than having to do laundry on your vacation, but running out of clean undies is one of them.
8) Bring a tote bag of some sort. To carry your room key, water bottle, sweater, camera, etc while you're hanging out on board. My first cruise, I would leave everything but my key card in our cabin, and then would get totally frustrated when I didn't have a sweater or camera, or had to buy a drink because I was dying of thirst.
9) Bring water bottles, if you can. At upwards of $4 for a small bottle on board, they're one of the more expensive commodities. I try to pack at least one large bottle per day I'll be gone. Then I take a refillable, smaller bottle and cart that around with me.
10) Bring your camera and camera chargers! Cruises offer so much when it comes to scenery and people watching. And while they have photographers on board, they charge outrageous prices for group shots you could have gotten with your own camera!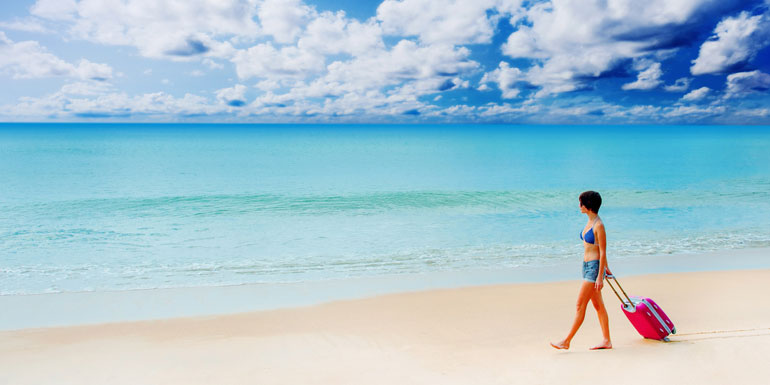 Now, for more casual cruises, you can totally eliminate the cocktail attire and fancy shoes. For
Mayercraft 2009
, I'll probably wear skirts or jeans and flip flops to the dinners. And I'll probably live in my bathing suit, yoga pants, pool cover-up and flip flops for the majority of the time we're on the boat. Lounging is my goal and lounging is what I'll pack for.
I also try to fit everything into one suitcase, not just because of the fact that most cabins on cruise ships are tiny, but also because it's easier to keep track that way when getting on and off a boat. The only drawback to this? If the airline loses your bag, you're in trouble!
I guess the overall tip here would be to think before you pack: what are you going to be doing on the cruise? Where are you going? A cruise to Alaska might require heavier clothes, or a cruise to Europe might require more trekking clothes. If you're being more adventurous, pack things that will stay on your body and keep you covered. If you're being more relaxed, pack light items that you can layer. It's all about planning, and only packing what you really think you'll need!